...we have actively worked to preserve workers' unity... ...together we have conquered fear...
A new collective agreement for workers at the AcelorMittal plant in Zenica has finally been reached after many months of long, fraught and postponed negotiations. The agreement was reached a mere 24-hours before a strike had been called by the unions. The conflict culminated when two days before the announced strike, the management tried to turn public opinion against the workers, stating that a knock-on effect of a strike would be that heating for the city of Zenica could not be guaranteed.
The workers did not give up in the face of threats and remained firm and decisive, knowing that the citizens of Zenica stood together with them.
IndustriAll European Trade Union and IndustriALL Global Union had pledged their solidarity with the workers, sending a joint letter to the company's management in Zenica, in which they called for sincere negotiations and supported the unions' demands and right to strike.
With this collective agreement - valid until May 2023 - workers will now earn an average 17% more, with increases in night shift pay, holiday bonus, paid transport for those living 3km from the plant, and a paid 13th month salary.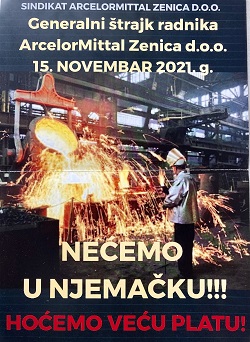 Zuhdija Kapetanovic, President of the Metalworkers' Union at the ArcelorMittal plant in Zenica, announced: "Behind us now is what has been a very difficult period of negotiation and organising of the strike. We have a law which makes it very difficult for trade unions to strike. The slightest procedural error may lead to an injunction, dismissals of workers, and also an employer's claim for compensation of millions of dollars in damages. The employer knows this very well, and he tried to make it difficult for us in every way. But he failed. At the same time, we have actively worked to preserve workers' unity. Together we have conquered fear and all the pressures on us. We have succeeded in our demands and the new collective agreement guarantees social peace at ArcelorMittal in Zenica until May 2023. The workers are just glad to be able to continue working!"
Luc Triangle, General Secretary of industriAll Europe: "The workers at ArcelorMittal in Zenica carry out their jobs in the most dangerous working conditions and are responsible for production that is worth several hundred million BAM. Many have to do one or even two additional jobs in their spare time, just to be able to secure a livelihood for their families."
The workers in the union were determined to stand firm in their demand for a decent wage and did not give up in the face of threats. IndustriAll Global Union and industriAll Europe congratulate their affiliate, SMFBIH, on their successful collective negotiations, which once again show that united and organised workers can achieve much more.
---
Contact: Andrea Husen-Bradley (press and communication), Ildikó Krén (strategic organiser)
---
Images copied with permission from Peter Scherrer - ©peterscherrer
---